Study in France
The fashion hub of the world offering one of the most renowned education systems
Has France always been your dream study destination? Well, you have come to the right place. Here's a guide to help you through the must-knows about the country's higher education and kick start your university application to study in France soon.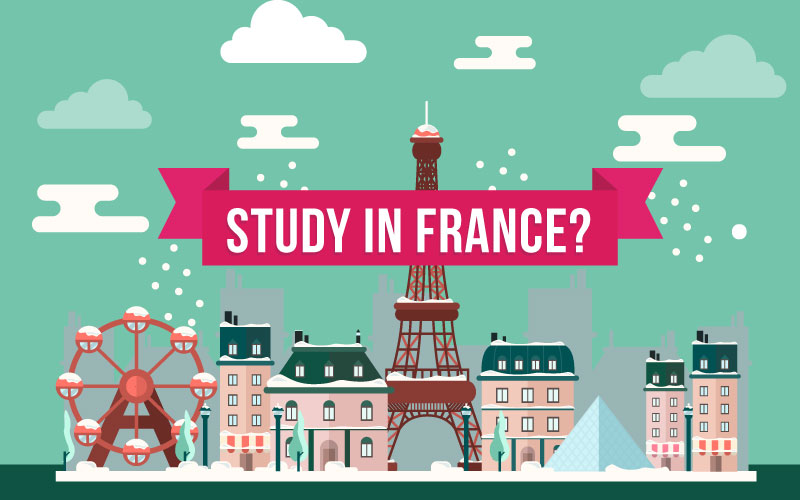 A Quick Intro to France
Bonjour! France is synonymous with elegance and romance. Its famous city, Paris, home of the Eiffel Tower, is known throughout the world as the city of love. Fashion designers and lovers flock during the busy months of the Paris Fashion Week. However, besides the famous tourist attraction and the chic streets surrounding it, France also draws millions and millions of visitors to its other cities which are also equally beautiful in their ways.
But besides the charm of this country, what also brings people to France is its reputation as one of the global centres for art, science, architecture, and philosophy. It's no wonder why some people are smitten and keeps coming back to the irresistible France.
Why Study in France?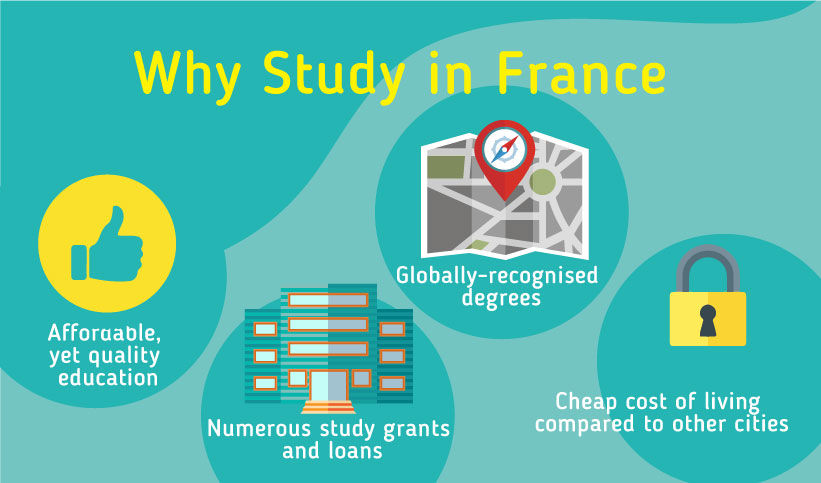 There are so many reasons why France is one of the top destinations for international students. The number one reason is that studying in France is affordable, but at the same time, the quality of education is excellent. The universities in France rank among the best in the world but are still less expensive than their counterparts overseas. Not only are you paying lower than other students in another country, but you will also get a globally-recognised degree and will be sought after by numerous companies worldwide.
Further, there are numerous study grants and loans available when you choose to study in France. In fact, the French government offsets some of the costs of attending university in the country – that is why a lot of students prefer to attend the universities in France. Because of that, the cost of living in France is relatively cheaper than the equally popular countries, too. From housing to food, even entertainment, it is more affordable to live in France.
And to top it all, France is very diverse. French people are known to be welcoming, and they find a way to make you feel at home and ease even if you are far from your country.
Higher Education in France
France is slowly becoming a top destination for international students due to the affordable tuition fees and living costs, especially if one chooses to live in smaller cities. And while Paris has some of the top universities in France – École Normale Supérieure, Paris, Ecole Polytechnique, Université Pierre et Marie Curie, CentraleSupélec – Lyon, which is in the south, has École Normale Supérieure de Lyon. Other notable schools located outside Paris include Université Grenoble-Alpes (Grenoble) and Université de Strasbourg (Strasbourg).
A. Higher Education Institutions in France
As a centre of arts and science even in centuries back, you will have many universities to choose from should you decide to study in France. There are currently 83 public universities in France, which are funded by the national government. Around the country, there are also numerous private institutions to choose from. Meanwhile, there are around 250 Grandes Écoles. Considered as 'the most prestigious schools in France,' they prepare students for administrative, scientific, and business positions.
Public Institutions
Private Institutions
Grandes Écoles
State institutes of higher education and research

Funded by the French Government, which regulates the national diplomas granted by the universities. They do this ensure that universities offer an excellent education at a reasonable price.

These institutions are accredited by the state to offer diplomas.

Mainly denominational (Catholic, Protestant, among others), engineering, or business and management schools.

Some of the private institutions are publicly funded.

Highly-competitive, Grandes Écoles specialise in a single area, often business or engineering.

The training in these schools equip students with the right skills they need to go to specific sectors in public and private offices.

Degree programmes usually include international internships and a chance to study overseas.
Did you know: About 80% of the university students in France go to Public universities – 10% are international students? Meanwhile, 18% of students are enrolled in private higher education institutions.
B. Pathway to Studying in France
The length of your study depends on the path you wish to take. Here's a basic duration of study in France
C. Top Institutions in France
The higher education institutions in France is considered one of the best educational systems in the world. It is no wonder that in the latest QS World University Rankings® 2016-2017, ten universities from France made it to the Top 250. Ecole Normale Supérieure, Paris and Ecole Polytechnique ParisTech, two of France's leading universities ranked 33rd and joint 53rd respectively.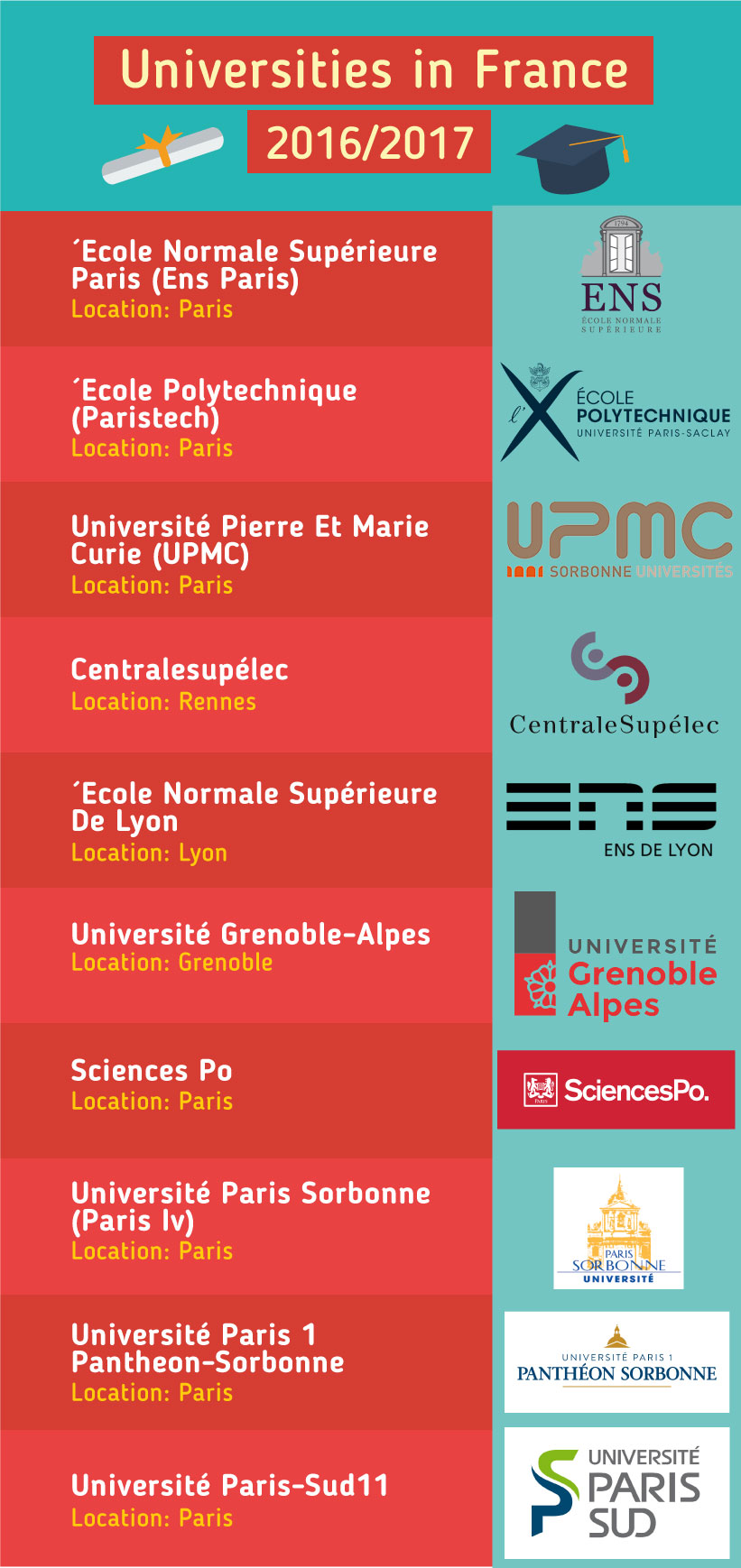 D. After Study Opportunities in France
Fortunately, students from EU member countries can work in France without restrictions. However, the case is not the same as those who are non-members. Good news is there are ways to stay and work in France after studying there. You can apply for a temporary residence authorisation (APS, autorisation provisoire de séjour) valid for 12 months beyond the date of expiration of the student's residency permit, and non-renewable. This allows you to work in France as long as you have one of the following degrees:
Degree equivalent to Master's
Degree categorised as level I by the CGE (Conference of Grandes écoles), which is an equivalent to a 5-years studies course
Professional Licence
Other options can be found here.
Applying to Study in France
A. Language Requirements
Do take note that for international students, you must submit IELTS/TOEFL scores as proof of English proficiency. Further, a student must also be able to speak or have sufficient knowledge of the French language.
A word of Caution: According to campusfrance.org, "the inability to speak French, or insufficient knowledge of the language, are the primary causes of failure among international students, especially in the humanities and law."
FYI… To apply to the more competitive Grandes Écoles, students must have a baccalaureate or equivalent diploma. You must appear for Concours, a competitive exam held in France. To take this test, you have to apply and obtain a special three-month competitive exam visa (Étudiant Concours visa). If you successfully pass the exam, you can get a residence permit valid for a year and can be renewed after.
B. Visa Requirements
Do take note that there are differences between EU and Non-EU citizens who want to study in France.
EU citizens can study a degree in France provided they are studying in France for more than three (3) months, enrolled at an accredited university or an institution, have proof of funds for the duration of their stay, and have health insurance coverage.
Meanwhile, Non-EU students need to apply for an extended-stay student visa, with residency permit (VLS-TS). To obtain this visa, you have to complete an application form as well provide the French Office of Immigration and Integration (OFII) the following:
Passport photos
Proof of your qualifications
A copy of your birth certificate, as well as a certified translation showing the birthplace of both of your parents.
A police certificate attesting that you do not have a serious criminal record
Proof you can speak French (if your course is in French)
Proof you have sufficient financial means.
Upon arrival, the VLS-TS holder must mail the following to the OFII: the official form received from the consulate that issued the visa and a copy of passport pages showing the visa holders identity and the stamp indicating entry into France (or into the Schengen area). You will need to contact OFII as they may request that you undertake a medical examination.
The VLS-TS is valid for one year and can be renewed if necessary.
Tuition Fees
The common concern of students when it comes to studying overseas are the costs that go with their education. In France, public universities adhere to the fees set by the government. The fees imposed are relatively cheaper compared to other popular countries for international students. Meanwhile, Grandes Écoles and the private institutions may charge a bit higher. Wherever you choose to study, do know that international and local students pay the same tuition fees.
Here's a breakdown of fees in various degrees available in France:
| Study Level | Tuition Fee, Per Year, in EUR | Tuition Fee, Per Year, in USD |
| --- | --- | --- |
| Bachelor's Degree | 184 – 8,600 | 205 – 9,600 |
| Master's Degree | 256 – 10,170 | 285 – 11,350 |
| Doctorate Degree | 396 – 10,000 | 440 – 11,150 |
| Grandes Écoles | 500 – 14,000 | 560 – 15,600 |