Study in Italy
The Arts thrive in Italy, home to some of the oldest universities in the Western world
Italy has played a crucial role regarding higher education. Are you considering studying in Italy? We are happy to help you out with some very useful information!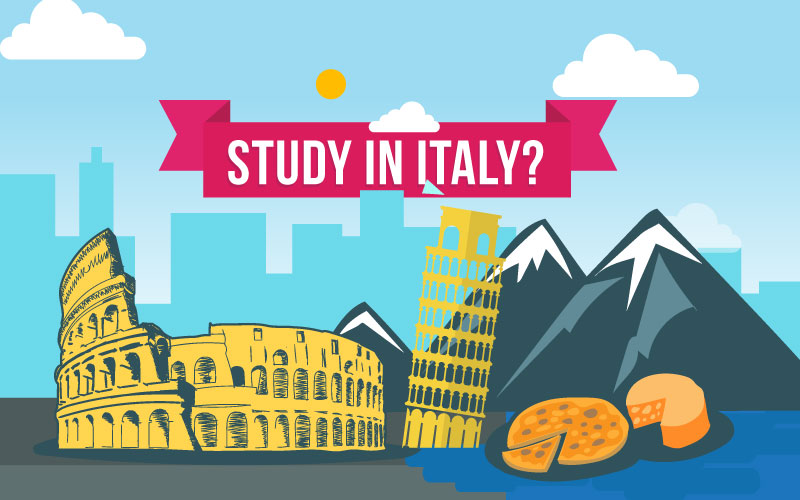 A Quick Intro to Italy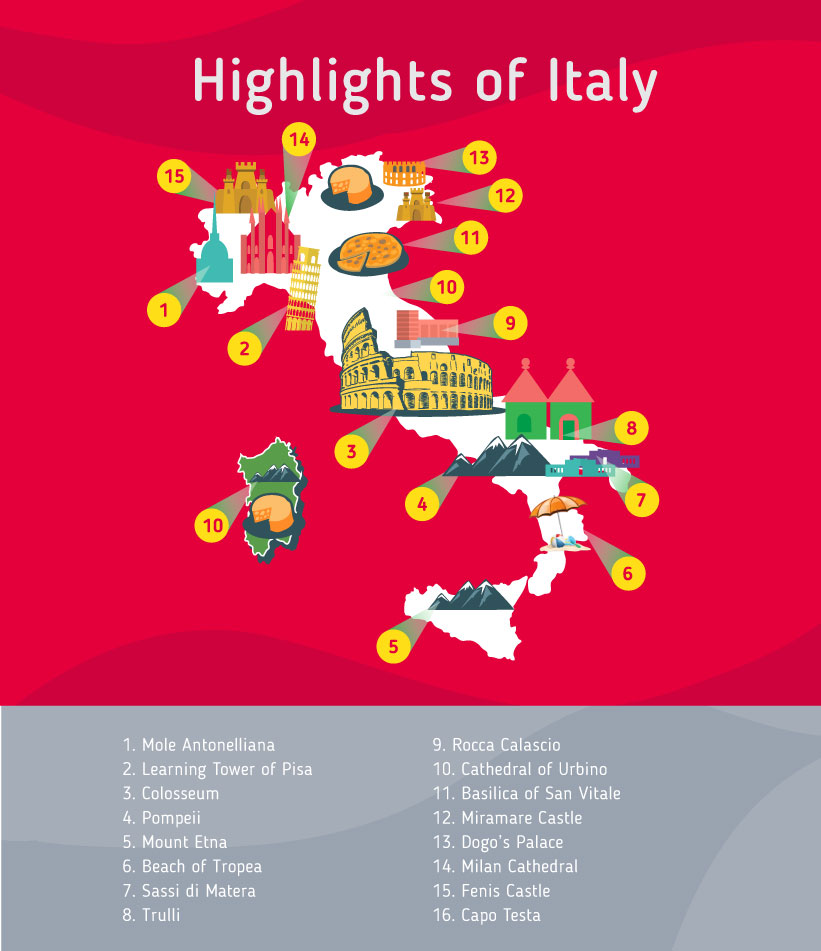 When people think of Italy, their minds immediately associate it with pizza, pasta, and hand gestures. Italians are very known for their pasta; they are the top consumers of it! During lunch, Italians usually have an enhanced meal with pasta as their first course, fish or meat comes second, and a dessert cannot be missed out of course. Besides pasta, a good cappuccino is also very much appreciated among the Italians.
Studying in Italy is very interesting, especially if you are to come from a modern country or city. Hence the reason is that Italy is a famous country owning her roots from the ancient Greek and Roman civilisations. There is a lot of art, literature, poetry, and religion involved in Italy. Take your time to travel so you can discover a lot of origins (and dishes!).
Why Study in Italy?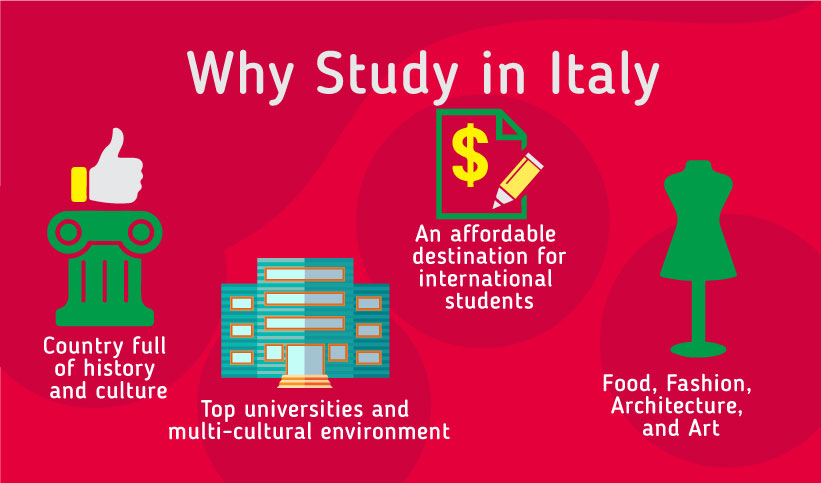 We can tell from experience that international students who have studied in Italy did not regret moving there for one moment. They experienced the best time of their lives; with its breath-taking landscapes, amazing multicultural culture and its strong historical atmosphere. Therefore, there is no better place than to study the field of fashion, design, architecture, applied science and arts in this country; international students will be guaranteed to get an enriching cultural experience.
Another reason to study in Italy is that the country offers a broad range of subjects throughout all universities. With the wide variety of courses, they also give the students the option to study some courses or programmes online. This means that international students can pursue its degree programme also online. This shows that universities in Italy are very flexible in providing study programmes to all students, in different circumstances.
Still not convinced yet? Ok, we will give you one final reason that studying in Italy would benefit you! That is simply because Italy has top rated programmes with teachers coming from all over the world with a lot of practise experience and a vast network, meaning that professors can help students into professional success in practise.
Higher Education in Italy
Because of the endless benefits of studying in Italy, a lot of international students prefer to be charmed by this country. In 2015, UNESCO listed Italy as the 10th most attractive country for foreign students.
The Italian capital, Rome, home of the Colosseum, the Trevi Fountain, the Pantheon, is also where Sapienza – Università di Roma is. Politecnico di Milano is located at the 'Fashion Capital' Milan, which also has the largest student community in Italy! Meanwhile, the 'Culinary Capital, Bologna has Università di Bologna (UNIBO), which also known as is the oldest university in continuous operation. Finally, Pisa, known for the world-famous Leaning Tower of Pisa, has Università di Pisa where one of the world's most famous astronomers, physicists and inventors, Galileo Galilei studied.
A. Higher Education Institutions in Italy
There are around 90 universities in Italy, consisted by 58 state universities, nine higher schools specialised in postgraduate studies, 18 non-state universities, and 11 online universities. The non-university sector includes higher schools of design, higher education in language mediation, higher integrated education, and higher education based on specific fields such as military studies.
Like most universities in Europe, the academic year in Italy is divided into two semesters as well, starting in September until February and then ending in July again.
Did you know? Italy is one of the four countries that created the European Area of Higher Education (EHEA) which was launched along the Bologna Process. The EHEA aimed to implement reforms on higher education.This way, higher education in these countries will be more compatible and of quality assurance. Today, there are 48 member countries since its inception 18 years ago.
Universities in Italy
The universities in Italy are divided into following: the state-run universities, the private universities, technical universities, and the superior graduate schools.
State-run Universities
Other Publicly-funded Universities
Private Universities
Superior Graduate Schools
They have the full backing of the government, but still, have autonomy on their own affairs

Fully-equipped with facilities and centres to better aid students and faculty

Universities that are funded by province, rather than a state
Officially recognised by the Ministry of Education and funded by tuition fees and private entities

Can set a cap on the number of students they choose based on their criteria

Scuola Superiore Universitaria in Italian

These schools focus on offering postgraduate education qualifications – Master's and Doctorate
Technical Schools
These institutes are designed to train its students in specific industries.
B. Pathway to Studying in Italy
The length of your study depends on the path you wish to take. Here's a basic duration of study in Italy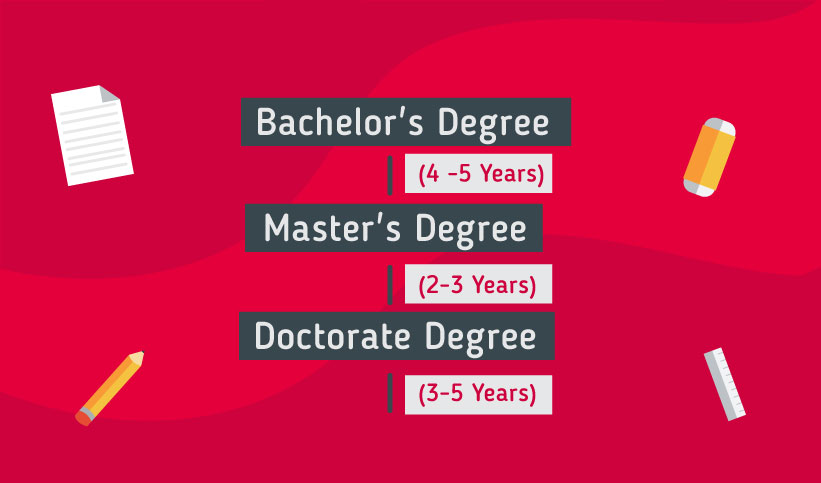 C. Top Institutions in Italy
There are 28 Italian universities mentioned in the QS World University Rankings. The following 10 universities are among the world's top 500:
D. After Study Opportunities in the Italy
If you decide to stay longer in Italy because you are planning to work in the country, that is no problem! For a visa longer than three months you will always need the long-stay visa, also called the national visa. You need to apply for this visa in person at the Italian embassy. The following documents will be needed:
A valid passport
Arranged accommodation administration
Purpose of extending your stay such as a work permit or a university declaration
Proof of financial support during the stay
Keep in mind that the embassy can always demand more official papers. After the long-stay visa is approved, the visa will then be categorised for the purpose of staying in Italy such as a work visa, a student visa or a family visa.
Applying to Study in Italy
A. Language Requirements
If your study programme is in English, you will need to attach all the results you received during your English courses. This is not the case for international students that already live in an English native-speaking country, such the UK or Australia. If you are planning to follow a study programme in Italian, you will need to have a minimum level of B2, which is according to the Europass Language Passport Classification. Anything lower than B2 will not be accepted!
B. Visa Requirements
Residents from the EU countries do not have to apply for a visa if they want to study in Italy. Non-EU residents, however, will need a student visa. You can apply for that through a university or the Italian embassy. In order to apply for a visa, you:
Must have an accommodation in Italy
Need to prove you are financially stable to support yourself throughout your stay in Italy
Must be entitled to medical care
Original passport
Must have a letter of acceptance from the university if you are applying through the Italian embassy
Moreover, all students, within or outside the EU, must apply for a residence permit. This needs to be done three months before the arrival.
Tuition Fees
Each university is determining its own tuition fee, but on an average between €850 and €1000 euros for all degree levels! In the case of superior graduate schools, it differs significantly per institution, but the tuition fees start at a minimum of €1500.
If you think this is over your budget: there are scholarships available in Italy and some international students can apply for student loans and grants in Italy.
| Study Level | Tuition Fee, Per Year, in EUR | Tuition Fee, Per Year, in USD |
| --- | --- | --- |
| Bachelor's Degree | 850 – 1,000 | 925 – 1,080 |
| Master's Degree | 850 – 1,000 | 925 – 1,080 |
| Doctorate's Degree | 850 – 1,000 | 925 – 1,080 |
| Superior Graduate Schools | Approximately 1,500 | 1,620 |