Study in New Zealand
Adventure your way through a world-class education
Too often overlooked, New Zealand can be a great country for students to pursue their higher education, offering the best of both worlds, in education as well as the quality of life. Our guide to studying in New Zealand might just point you towards the most ideal of situations, so read on to find!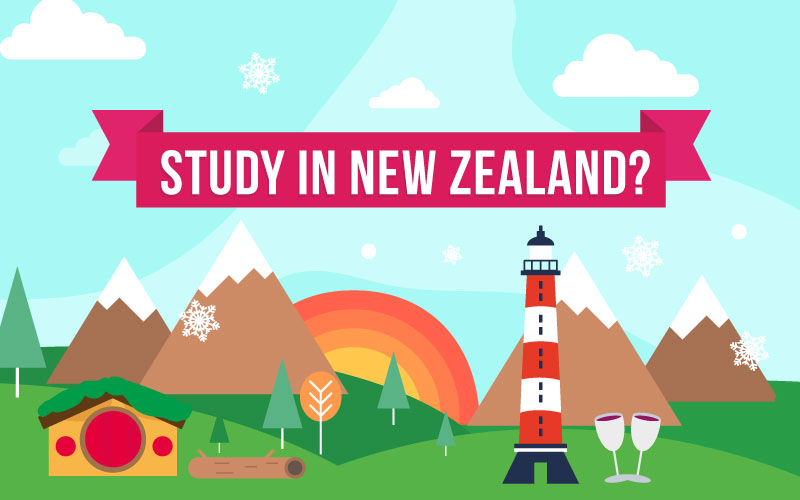 A Quick Intro to New Zealand
The Lord of the Rings Trilogy might have intrigued you to New Zealand. Featuring the breath-taking landscapes to one-of-a-kind attractions, there is so much more to discover and learn about New Zealand. Imagine, aside from endless emerald hills, New Zealand's quality of life has led it to be named as one of the best countries in the world to live in, based on its lack of corruption (which it maintains as the top three in the world), employment opportunities, high happiness index, economic freedom, education, and a multitude of other factors. That is why a lot of students are also curious as to how the student life is in New Zealand.
Why Study in New Zealand?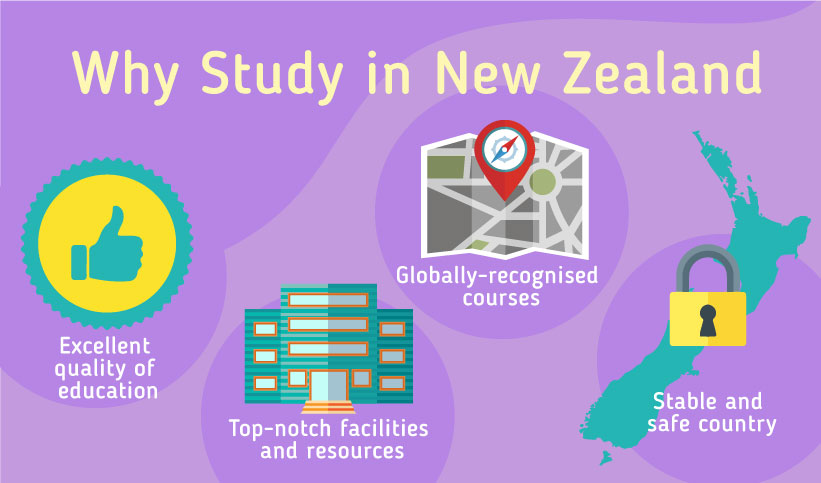 There are a lot of reasons why you should choose to study in New Zealand. First and the most important is that the quality of education if excellent. Studying in New Zealand gives you a British-based education, for a fraction of the price. Further, the degrees are recognised worldwide are always up-to-date with the global standards.
The ease of getting a student visa is simple. As New Zealand is known to be non-discriminating, the support services for international students are among the top in the world. Plus, you will be assisted regarding your application in various ways.
Finally, a stable country is always good – economic and security-wise. Studying in New Zealand gives you a peace of mind. Knowing that you will be safe and sound throughout your stay will help you focus more on your studies.
Higher Education in New Zealand
With an adult literacy rate of 99% and more than half of the country's population having obtained a tertiary education, New Zealand ranks quite highly in the department of education, with it being made free and compulsory to individuals until the age of 16.
Auckland, New Zealand's largest city, is the home of the highest-ranking university, the University of Auckland, while Wellington, the capital city has the Victoria University of Wellington. Dunedin in the South Island has the second highest-ranked and oldest university, the University of Otago. Meanwhile, Christchurch, the third most-populous urban area in the country has the University of Canterbury, the country's third highest-ranked.
A. Higher Education Institutions in New Zealand
Higher education in New Zealand is not just in the universities – there are also polytechnics, institutes of technology, private establishments, and industry training organisations.
Currently, there are eight universities throughout the country which are governed by the New Zealand Qualifications Framework (NZQF). Institutions in New Zealand are constantly monitored and tested to ensure they provide a consistently high level of education and that they meet the highest educational standards. This includes The Code of Practice for the Pastoral Care of International Students. Also known as 'the Code', this sees to it that students are well informed, safe, and properly cared for. With these bodies in place, New Zealand makes sure that students can be confident with their choice, should they decide to go to their universities.
Universities
Institutes of Technology and Polytechnics (ITP)
Wānanga
Private Training Establishments (PTE)
Industry Training Organisations (ITOs)
Their programmes are research-led and academic

As they are centres of research excellence, the universities in New Zealand plays crucial role in economic transformation and development

These universities receive grants from the government

Offer general technical and vocational courses – practical knowledge on working environment Industry-related, so classes are conducted in workplaces such as hospitals, workplaces, studios, among others.
Under section 162 of the Education Act 1989, these institutions are "characterised by teaching and research that maintains, advances, and disseminates knowledge and develops intellectual independence and assists the application of knowledge regarding ahuatanga Maori (Maori tradition) according to tikanga Maori (Maori custom).

Some offer certificates, diplomas, and bachelor-level degrees, even doctorate levels since 2009.

Provides training for specific occupations such as design and tourism, as well as special needs group.

The educators are from the industry itself, to better teach their experience. The goal for each student is to get employment quickly.

Many PTEs provide certificates, diplomas, and degrees

Provides off-job and on-job training, so students can work and earn at the same time.

ITOs are owned by industries and recognised by the government – their funding also comes from these two sectors.

They cover industries know as traditional trades such as building and plumbing, the primary industries, and manufacturing and retail.

New Zealand's Industry Training Federation, the national body for New Zealand's eleven Industry Training Organisations, represents ITOs.

University of Aukland

Aukland University of Technology

Lincoln University

Victoria University of Wellington

University of Canterbury

University of Otago

Ara Institute of Canterbury

Eastern Institute of Technology

Manukau Institute of Technology

Nelson Marlborough Institute of Technology

Northland Polytechnic

Open Polytechnic of New Zealand

Southern Institute of Technology

Tai Poutini Polytechnic

Unitec New Zealand

Universal College of Learning

Toi Ohomai Institute of Technology

Waikato Institute of Technology

Wellington Institute of Technology

Western Institute of Technology at Taranaki

Whitireia Community Polytechnic

Te Wānanga o Raukawa

Te Whare Wānanga o Awanuiārangi

Te Wānanga o Aotearoa

See complete list here
See complete list here
B. Pathway to Studying in New Zealand
The length of your study depends on the path you wish to take. Here's a basic duration of study in New Zealand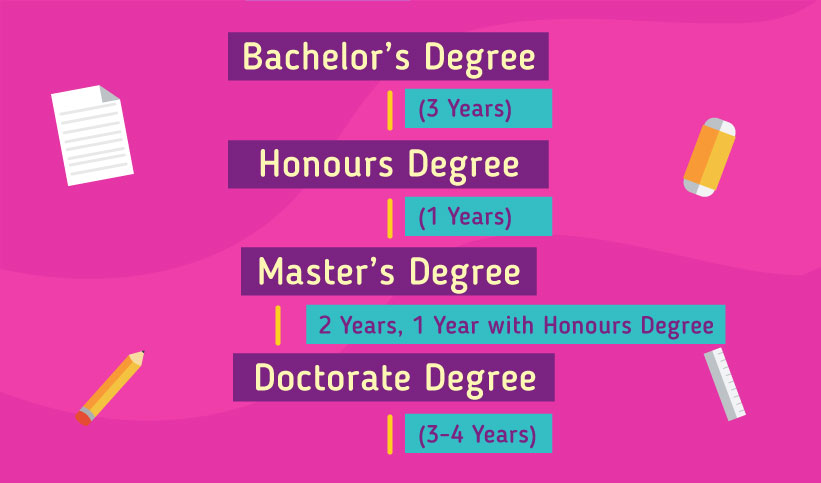 C. Top Institutions in New Zealand
While not as much as other countries, New Zealand's eight universities have a great reputation in educating not only theory, but practical knowledge to its students too.
Did you know? New Zealand's universities begin their academic year in February.
D. After Study Opportunities in the New Zealand
The good thing about graduating as an international student in New Zealand is that you can work there for up to a year. Great news also is that if the job you are working at is related to your degree, you will have a chance to get a permanent residency, which you will most likely get in six months. To know more about post-studies and work visa, you can check out the New Zealand Immigration website.
Applying to Study in New Zealand
A. Language Requirements
Potential students are simply required to apply directly through their chosen university's website in New Zealand with a recognised secondary level education qualification and an English language proficiency test result, such as the IELTS or TOEFL examinations.
B. Visa Requirements
If your duration of studies extends to more than three months, you will be required to apply for a student visa. To do this, you must apply with the following documents:
Requirements for a student visa to Australia can be applied using the following documents:
Offer letter from your chosen university
Medical certificates
Proof of financial resources for the duration of your stay
If you are under 18, you will need proof of definite accommodation in New Zealand
Students must simply apply at their closest New Zealand Embassy for their visa.
Tuition Fees
Although relatively cheap for New Zealanders, tuition fees for international students can tend to be costly. Listed below are the approximate costs of tuition fees in New Zealand.
| Study Level | Tuition Fee, Per Year, in NZD | Tuition Fee, Per Year, in USD |
| --- | --- | --- |
| Foundation/Pre-U | Between 2,000 – 10,000 | 1,400 – 7000 |
| Diploma | Between 15,000 – 20,000 | 10,700 – 14,300 |
| Bachelor's Degree | Between 26,000 – 50,000 | 18,600 – 35,700 |
| Master's Degree | 30,000 – 50,000 | 21,500 – 35,700 |
Top Courses in New Zealand
Ready to Study in New Zealand? Check out the top courses and where to study below.
Here is a list of the universities of the top courses in the New Zealand


You might be interested in…
1
2
3
4
5
6
7
8
9
10
11
12
13
14
15
16