Study in Taiwan
An innovative and outstanding education system placed in a country rich with culture
Taiwan is a country popular amongst students who want to study abroad. It is a country filled with culture, history, food, nature, and great outdoor activities. In this quick guide, you will get the most important information about the things you need to know to ease your decision in studying in Taiwan.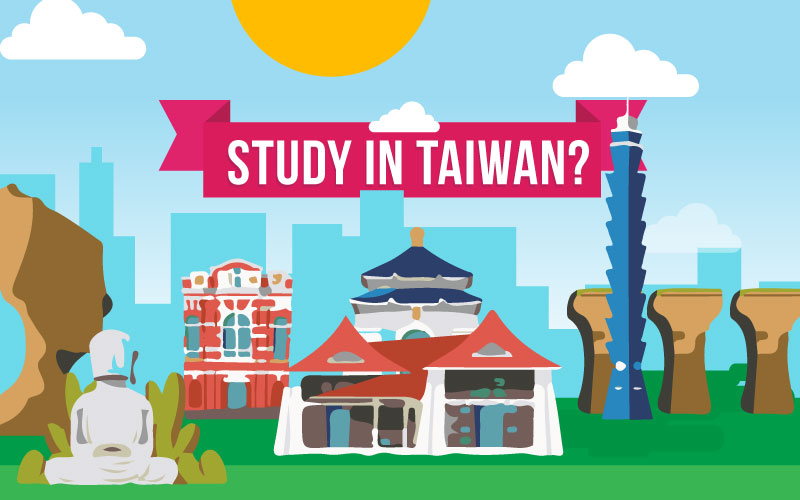 A Quick Intro to Taiwan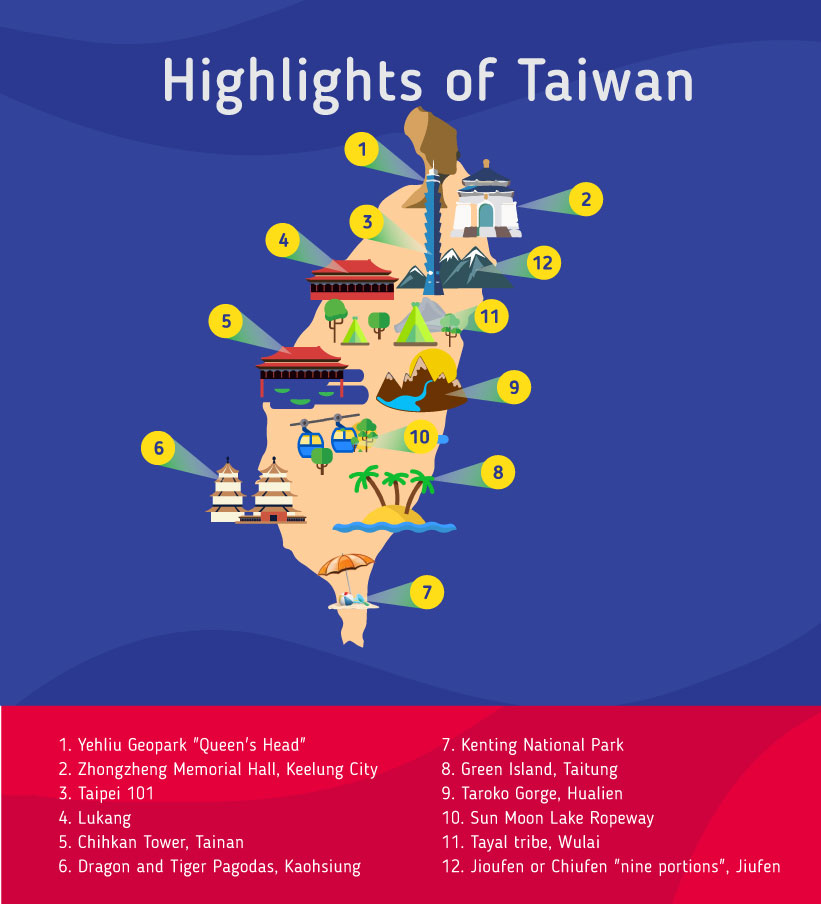 Taiwan, a country located on the southeastern coast of Asia. This country has a lot of beautiful mountains and the climate is very tropical with both rainy and dry weathers. It was first discovered in the 16th century by the Portuguese when they sailed their ship to Asia. They referred to Taiwan as Ilha Formosa, which means ''the beautiful island''.
Taiwan used to be part of the Republic of China, but in 1949 they split from the mainland. Around the year 2000, Taiwan became one of Asia's economic ''Tigers''. Their economic structure developed from a labour industry to a high – tech industry. China is their main trading partner, and the United States and Japan are on the second and third place.
Why Study in Taiwan?
International students find it usually easy to live in Taiwan. With the diverse culture and rich history, the country welcomes international students with open arms.
One of the reasons why students prefer to study in Taiwan is because there is always 'green mother nature' around the corner. While some areas are known for the impressive mountains for hiking trips, other areas are known for the forests, sandy beaches, lagoons and architectural history.
In terms of their higher education, the low tuition fees in universities and colleges in Taiwan are also big pull-factors for students. Due to new government policies, it is now possible to receive high-qualitative study programmes in Taiwan for a more affordable price.
It is also good to know that the Ministry of Education of Taiwan has launched programmes for higher education, providing ease in application, as well as studies for foreign students to study in Taiwan. The country also has scholarships available even to international students.
Besides the low tuition fee, the country is also cheap in itself. The cost of living is quite reasonable and, depending on your lifestyle, you can also get to travel to different countries in Asia cheap since they are so nearby. A great way to start exploring the world!
Higher Education in Taiwan
The best universities from Taiwan are mostly in the Taipei area. The National Taiwan University, National Yang-Ming University, Taipei Medical University, National Taiwan Normal University are all based in Taipei or nearby this city.
Top universities cannot only be found in Taipei but across the country as well. In Hsinchu City, you will find great science and technology institutions. Two universities in this city are ranked among the world's top 200 universities – National Tsing Hua University and National Chiao Tung University.
A. Higher Education Institutions in Taiwan
Should you decide to study in Taiwan, there are a lot of higher education institutions to choose from. Currently, there are more or less 163 universities, colleges and junior colleges in Taiwan.
Universities and Colleges
Public schools are supported by the government, and some private school are supported by the commercial groups or religious bodies.
Junior Colleges
These schools can be classified into a five-year or two-year junior colleges, according the entry requirement. Both offer associate degrees under the Article 29 of the Junior College Law.
| Five-Year Junior College | Two-Year Junior College |
| --- | --- |
| Admit graduates of junior high schools | Admit graduates of skill-based senior secondary schools |
B. Pathway to Studying in Taiwan
The length of your study depends on the path you wish to take. Here's a basic duration of study in Taiwan
C. Top Institutions in Taiwan
The following 10 universities are among the world's top 500:
D. After Study Opportunities in the Taiwan
Can't get enough of Taiwan? And you wish to stay longer in the country? No problem, because you can apply for a work visa or an extension for your student visa! Go to the Taiwan government website and under the section 'Resident visa for white collar workers' you can apply for a work visa, and under the section 'student visa' you can apply for an extension on your current student visa. Just make sure that you receive a work permit from the company you are planning to work for or a university acceptance letter! Easy, right?
Applying to Study in Taiwan
A. Language Requirements
International students whose native language is not English will need evidence for their English proficiency. For the TOEFL a minimum score of 500 is required and a minimum IELTS score of 5.5. It is highly recommended to contact the universities of consideration to ask about their requirements. For the Master's degree programmes, students need to meet a minimum knowledge requirement in English and a second foreign language.
B. Visa Requirements
The visa application requirements for international students who are to study full time in either PhD, Master's program, Bachelor's program, or Diploma/Certificate are as the following:
Two colour passport-size photos
Photocopy of the passport, it needs to be valid for at least six months
Original and a photocopy of the health certificate
Original and a photocopy of the admission permit of enrollment and registration
Original and photocopy of highest education diploma
Proof of financial support
All the original documentation will be returned after the review
Tuition Fees
Taiwan's higher education system has become quite popular and it receives great recognition. The tuition fees, however, are very reasonable. Isn't that great news? Getting good quality education, that is not expensive at all.
| Study Level | Tuition Fee, Per Year, in TWD | Tuition Fee, Per Year, in USD |
| --- | --- | --- |
| Bachelor's Degree | 51,000 – 78,000 | 1,650 – 2,500 |
| Master's Degree | 50,000 – 79,000 | 1,600 – 2,550 |
| Doctorate's Degree | 142, 000 | 4,560 |