Study in the UK
Home to four prestigious Top 10 universities in the world
As one of the top student destinations for higher education in the world, the United Kingdom (UK) more often than not lives up to the hype surrounding it. Find out why in our guide on how to study in the UK.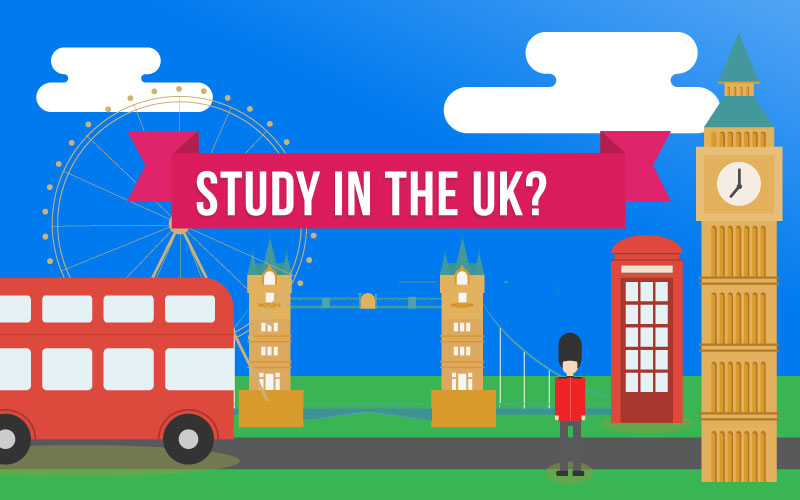 A Quick Intro to the UK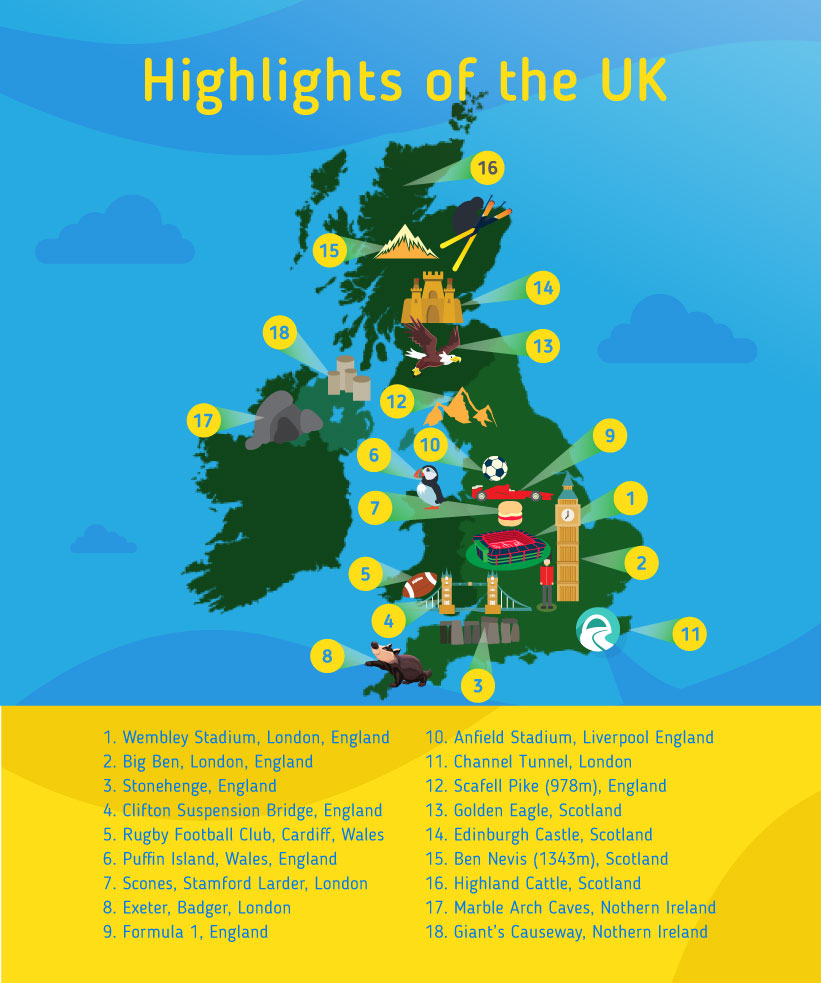 What comes to your mind when someone mentions the UK? Scones, Tea, London Bridge, and the Queen are probably some of them. Well, you can add excellent education and good quality of life in the list, too!
Home to the oldest university in the world, the University of Cambridge, the UK has produced some of the history's best and the brightest including William Shakespeare, Sir Winston Churchill, Charles Darwin, even The Beatles! No wonder, it's a choice for approximately 470,000 international students to continue their higher education.
Why Study in the UK?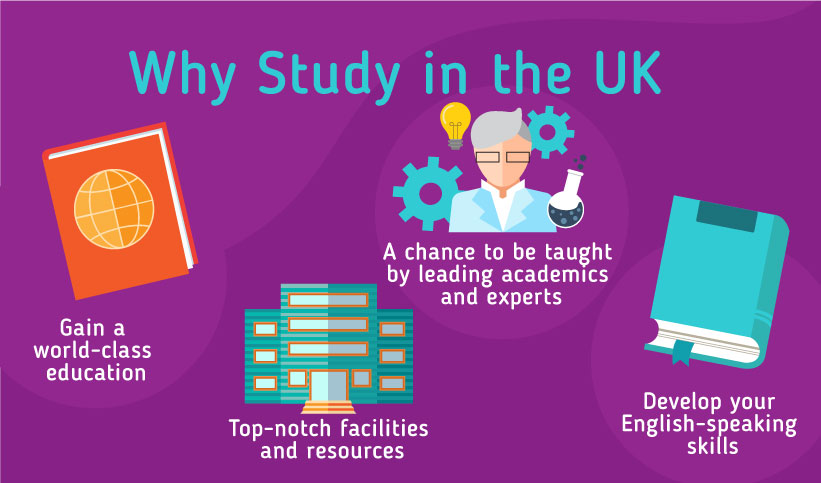 To study in the UK is an opportunity to gain a world-class education, from high-ranking universities all over the country. The facilities, the resources, and a chance to be taught by the industry's best are just some reasons to go. Those who study in the UK also have the opportunity to be taught by some of the world's leading academics and experts whose papers and books are cited in researches and studies.
Aside from being able to walk the same halls as the men and women of history, studying in the UK is also a chance to develop your English language skills. However, while English is the official language of the UK, a variety of other dialects, with different accents are spoken in the country, too. Immigrants have been welcomed in the UK for decades, so it's a good chance to meet new friends and learn another language, or two!
Higher Education in the UK
Currently, there are more than a hundred institutions spread across the UK – with no less than four in the top 10 of the major world rankings. The oldest university in the world, University of Cambridge, established in 1209, has produced the likes of Sir Isaac Newton and Stephen Hawking. The University of Oxford currently at the sixth place, has the current Prime Minister, David Cameron as one of its notable alumni. The University College London (UCL) ranked seventh in the world, is known to be the first to admit women on equal terms with men. Meanwhile, the Imperial College London currently in eighth formed the first academic health science centre in the UK.
While there are many universities in the UK, the competition to get in most of them are quite stiff. That's why, you have to make sure if you really want to pursue your higher education in the UK, and if you do, you have to apply fast!
A. Higher Education Institutions in the UK
The higher education institutions in the UK fall into two categories: degree awarding and non-degree awarding
Degree Awarding
Non-Degree Awarding
Referred to as the recognised bodies

Awards Bachelor, Masters and Doctorate qualifications

Authorised by a Royal Charter or by or under an Act of Parliament to grant degrees

Over 160 universities and colleges under this qualification

Referred to as the listing bodies

Offer courses leading to a degree from a recognised body, thus do not have the power to award degrees

Programmes offered are vocationally-oriented and can result to any of the following: employment, continue to a degree programme, or focus on the development of a particular technical skill.
Take Note! Check your institution whether they are recognised. Also make sure that you know the nature of your course which you can obtain from your institution of choice.
Some of the UK Higher Education Institutions are also grouped as following:
B. Pathway to Studying in the UK
The length of your study depends on the path you wish to take. Here's a basic duration of study in the UK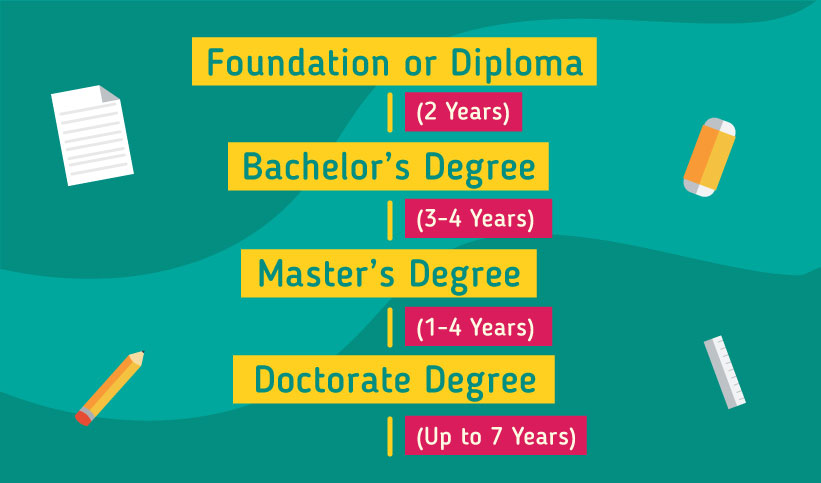 C. Top Institutions in the UK
It is no surprise the UK is currently the second most popular student destination in the world. Its quality education, as evident in its high rankings and quality students produced, is just some of the pulling factors of this nation.
Here are the best universities in the UK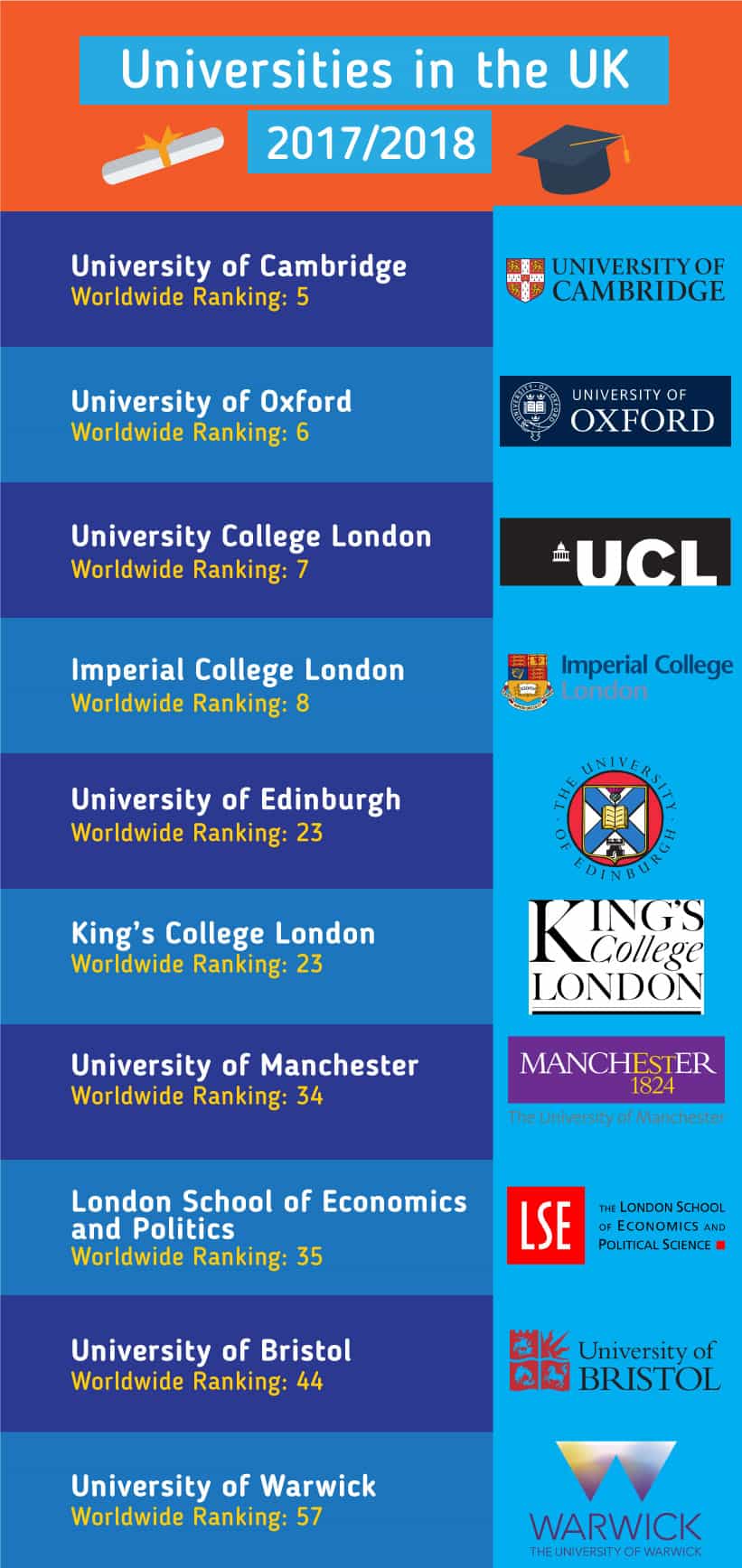 D. After Study Opportunities in the UK
There are various opportunities available for students who wish to stay and work in the UK. Different visas are available depending on your needs. Here is a list of possible work visas you can obtain after studying in the UK:
Tier 4 (Doctorate Extension Scheme): Perfect for those who want to stay and work in the UK after their PhD. This is valid for 12 months.
Tier 2 (General): Want to stay and work in a graduate level job for a long term? This is the visa for you – provided you get a job offer from a licensed Tier 2 sponsor.
Tier 1 (Graduate Entrepreneur): If you want to get sponsorship after for your business, apply for this one.
Tier 5 (Government Authorised Exchange): This one allows you to remain for up to 12 months in the UK, provided your work is related to your academic course.
Tier 5 (Youth Mobility): If your aged 18-30 and from some of these countries (among other requirements), you can work in the UK for up to two years with this visa.
Here's a Tip: If you are interested in any one of these, be sure to check out the Visa and Immigration page for more information.
Applying to Study in the UK
A. Language Requirements
Since the UK possesses some of the top and hence most popular universities in the world, admission into them is an intense and extremely competitive process as well requiring prospective students to have grades which make them stand out from all their other classmates.
Your level of understanding and competency in English will be your key if you want to get accepted in any university or course in the UK. You need to ensure you have a good level of English understanding – which can be determined by taking any of these exams: TOEFL, IELTS, UCLES (University of Cambridge Local Examinations Syndicate).
Further, to find out more about your university application, you can keep track of it in the University and College Admissions Service (UCAS). This office handles all students' applications to UK universities, except a few English language centres and further education courses.
UCAS details exactly what students require to apply to their chosen university, and ensures you do not miss any application deadlines. Usually, for admission through UCAS, students are primarily required to provide a transcript of their grades, as well as a personal statement reasoning out the student's motivation behind wanting to pursue a particular course in the UK, among others.
B. Visa Requirements
Once you are confirmed of your university placement through UCAS, applying through the UK Visas and Immigration (UKVI) for a Tier 4 visa is required, which is to be done online three months before the commencement of your degree.
To do this, you must have the following documents on-hand:
Unconditional offer from your university of choice
Proof of financial stability
Passing marks from a secure English language test (SELT)
Health results such as for tuberculosis, if applicable to your nationality
Biometrics taken at a visa application centre
Payment of GBP328 as visa fees
Tuition Fees
Even equipped with scholarships, it can be a burden for many to study in the UK, with tuition fees already high and gradually increasing even higher every few years. However, since the UK consists of world-class universities, for those who seek such an education, the country is an ideal destination.
| Study Level | Tuition Fee, Per Year, in EUR | Tuition Fee, Per Year, in USD |
| --- | --- | --- |
| Foundation / Pre-U | Between 8,000 – 23,000 | 9,000 – 26,000 |
| Diploma | Between 6,000 – 30,000 | 7,000 – 34,000 |
| Bachelor's degree | Between 9,000 – 40,000 | 10,250 – 45,500 |
| Master's degree | Between 13,000 – 40,000 | 15,000 – 45,500 |
Top Courses in the UK
Ready to Study in the UK? Check out the top courses and where to study below.
Here is a list of the universities of the top courses in the UK



You might be interested in…
1
2
3
4
5
6
7
8
9
10
11
12
13
14
15
16